I think I must have imprinted early on Carolyn Bessette-Kennedy as a style icon. Some of my earliest media memories include watching the hysteria surrounding her wedding with JFK Jr and their tragic death on the news. JFK Jr's assistant wrote in her memoir that Carolyn's favorite designers were Yohji Yamamoto, Prada, Miu Miu and Ann Demeulemeester but she was often photographed in a rotation of casual basics like Levi's and t-shirts from Gap and Petit Bateau.
The only labels Carolyn flashed were subtle: the iconic Hermès belt and discrete black bags by Comme des Garçons and Prada. The only item that she might have in common with a Kardashian was a Birkin bag, oversized and in black, that she carried in a way that made it seem more "utilitarian" than status symbol. She was often photographed in her smaller, rounded Selima Aldo sunglasses, a style that has made a roaring return in recent years. Also, I spied a micropurse in this image of her at a Whitney fundraiser in 1999.
JFK JR's assistant also wrote that Carolyn would say "If you're going to wear bold colors or prints, the fabric has to be really nice. If you're not going to spend tons of money, you should stick to gray, navy, black, nudes and white." The only color I ever remembered Carolyn photographed in was an ice blue turtleneck. Rather than color, it was always the impeccable fit of her outfits that stood out to me.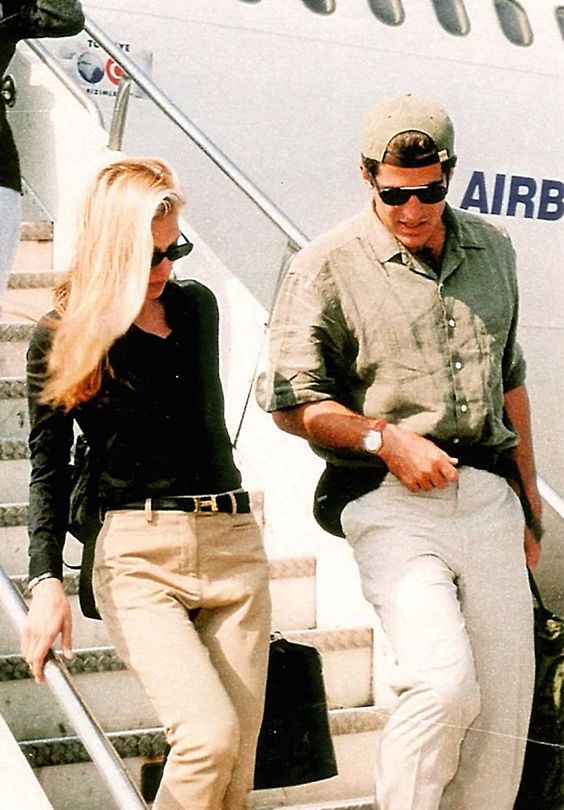 Isn't there something wonderfully rebellious about dressing "boring" in the fast fashion age where everyone seems to be tripping over themselves in order to have the most instagrammable "OOTD" #look? As I've aged, my personal style has become increasingly basic. I outfit repeat constantly, I wear the same simple jewelry and I try to stay away from trendy, "label-flashing" items. While it's my own laziness, frugality, and hatred for clothes shopping that incentivizes me to keep to this fashion rationale, there is inherent wisdom to the Carolyn style concept. If you can limit your clothing to a few quality staples in neutral colors, your wardrobe is lasting and classic. Some images of Carolyn look so current they could have been taken yesterday. Having your style be lauded as "on trend" surely provides a certain sugar rush thrill, but isn't the height of style to be described as timeless?